At the end of March, market stalls in the Chieti province start selling a local variety of a delicious artichoke called Mazzaferrata or carciofo di Cupello. Locals say it is beautiful like a flower and sweet like a dessert. This particular variety is green-purple, without sharp thorns and has generous fleshy hearts.
Wild artichokes growing in the area around Vasto were mentioned in a travel diary of a Dominican friar visiting Abruzzo in 1575, so most likely they were already used in local dishes back then. A later document exists dated back to the 18th century that confirms that artichoke of Cupello was cultivated by many local families and sold at the market in Lanciano . However, its cultivation on a commercial scale started only in the 1950s.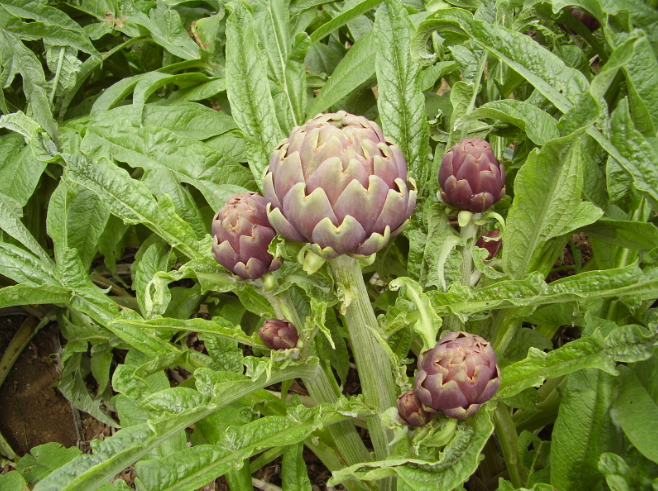 Today, the growers in the area of Cupello, Furci, San Salvo and Vasto sell three million artichokes, fresh, turned into pate or artichoke hearts in oil. Since 1965, in April, the village of Cupello celebrates the harvest with a festival "Sagra del Carciofo di Cupello" attended by thousands of people. Local restaurants and street food stands sell various dishes made with the prized artichoke: grilled, baked, boiled artichokes, omelettes with mint and artichoke, lasagne and even tiramisu with carciofo!  The last festival, in 2018, was a record with 8000 people turning up to celebrate the humble thistle and eat over 12,000 artichokes.
This year's festival takes place on April 25-28. The programme will be published shortly on the event's website and Facebook page.
How locals eat it:
One of the most popular dishes in Cupello is artichokes stuffed with a mix of cheese and eggs. In spring, local restaurants also serve a soup with artichokes and beans. Locals will tell you that they do not throw anything from the precious artichoke. The leaves discarded when cleaning the delicious thistle are boiled with lemon juice to make a broth for risotto. You can also throw them in a juicer, simmer in a frying pan, mix with cooked stems, the water that you cooked them in and oil. Blitz the mix until it is smooth and you'll have a Michelin-star restaurant worthy sauce.
Artichoke hearts are boiled with vinegar and preserved in oil.
Where to find:
Osteria La Volpe & L'Uva, Via XX Settembre, 33, Cupello.
A rather refined osteria, where the owner and chef Marcello Potente cookes hearty dishes heavily influenced by local traditions with a modern twist. Here you can taste pasta with an artichoke sauce as well as delicate baked artichokes, all from local growers.
Pizzeria Ristorante Lo Scarabeo, Corso Mazzini, 3, Cupello
A small simple place where you can taste a number of dishes with local artichokes (carciofo ripieno, pizza alla cupellese).
Check out this beautiful video to see how carciofo di Cupello is harvested and cooked.
Photos by Carciofodicupello.it