To find the best wineries for my wine tours in Abruzzo, I do a lot of research (and drinking!). One of my latest discoveries is Chiusa Grande.
The Chiusa Grande winery started making organic wines before it became a trend. Its owner Franco D'Eusanio is often called a "vinosopher" for his unusual approach to wine making. He descrives himself as a vigneron, who rejects fads and seeks to be unique. Chiusa Grande wines are born as dreams first. Franco says that he creates a wine in his mind, thinks of the emotions it will convey and then he chooses the grape, vineyard and methods for realising his dream. He has the utmost respect for local traditions, draws on rural heritage and weaves both into the production process.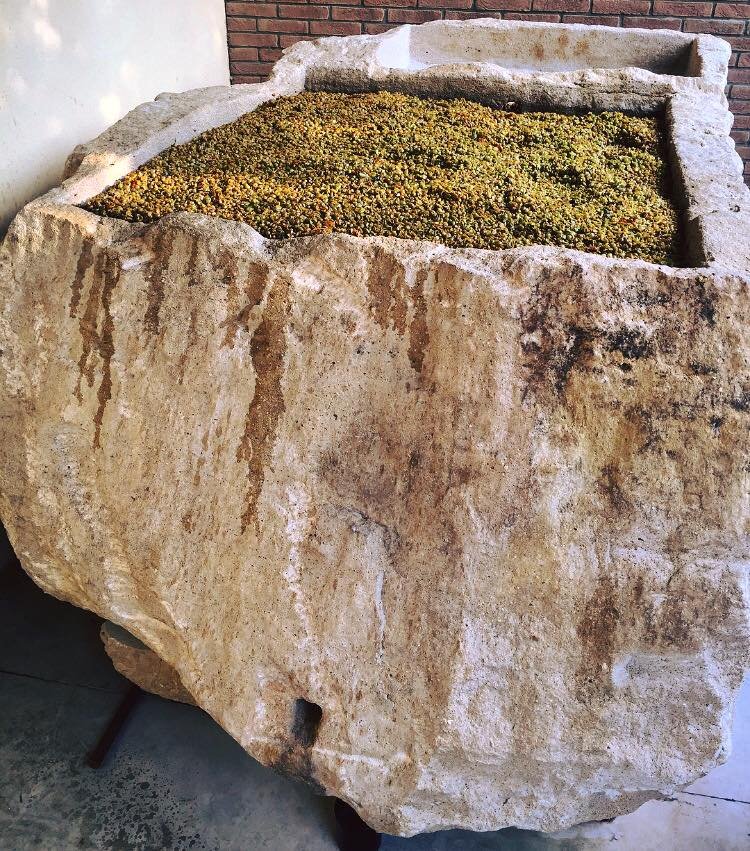 One of his latest creations is In Petra line: two wines, In Petra Rosso and In Petra Bianco, an elegant reverence for the ancestors' ingenuity. Grapes are pressed and macerated in large stone vats, just as it was done centuries ago in the small village of Pietranico (called Petra Uniqua in the past). From the 1300s to the 1900s, the vineyards in the area were dotted with hand-carved stone vats where local farmers left the grapes to macerate for a short period and then brought the wine home.
The magic happens when the grapes come in contact with the natural stone. D'Eusanio says that it is somewhat of a mystery what exactly occurs in the stone vats at the chemical level but it certainly makes In Petra wines distinctively different from the rest of Chiusa Grande's offerings. In Petra Rosso is 100% Montepuciano d'Abruzzo DOC grapes grown on the hills around Pietranico. The notes of blackberry, morello cherries, rosemary are balanced with a pleasant hint of spices, a well-pronounced minerality and savoury earthiness. I really like its slightly coarse character that reminds of the old days when farmers used wine to quench thirst while working in the fields.
In Petra Bianco is a blend of Trebbiano DOC and Pecorino. Drinking the wine you can easily imagine rolling in a summer meadows fragrant with honey, herbs and ripe figs. The wine's clear-cut minerality balances out any notion of bucolic frivolity. After all, it is a wine made in Abruzzo, the land of no-nonsense hard-working shepherds and farmers.
Do you want to visit the best local wineries? I run wine tours in Abruzzo. Contact me to book your tour.