Have you tried ventricina del Vastese from Abruzzo yet? It is famous across the region and, unlike many other cured meat artisan products, is never produced on industrial scale because of the costly meat cuts and labour-intensive preparation.
Large, between one and three kilos, round or pear-shaped pork salami with a strong intense flavour and bright orangey colour that comes from the ground red pepper has been produced in the southern part of the Chieti province since the 19th century. Lean noble meat parts (70%) are cut with a knife into medium pieces, combined with fat pieces (30%) and, after a night's rest, mixed with salt, black pepper, wild fennel seeds, garlic and red pepper (depending on the producer, it can be sweet or spicy). The salami has a natural casing, normally pig's bladder. After being air-dried for 100 days, the ventricina is cleaned from the mould, dipped in lard and dried for another 3-5 months. In old days, ventricina del Vastese was cased in a pig's stomach (hence the name, "ventre" = "stomach") lining and each salami weighed up to 10 kg.
Traditionally, ventricina was never cut but broken into chunks. It was kept for special occasions, such as a grape harvest, local saint's festivals, baptisms. Often, farmers gave the precious salami as a payment to a doctor or lawyer.
The ventricina della Vastese has a rustic chewy, on the hard side, texture. Like with many local artisan products, its taste and flavours vary from one producer to another, so make sure you try different ones to find your favourite. Locals eat the ventricina in thick chunks of hot pizza bianca (focaccia-style bread with no toppings) or traditional leavened bread, sliced tomatoes and Montepulciano d'Abruzzo wine.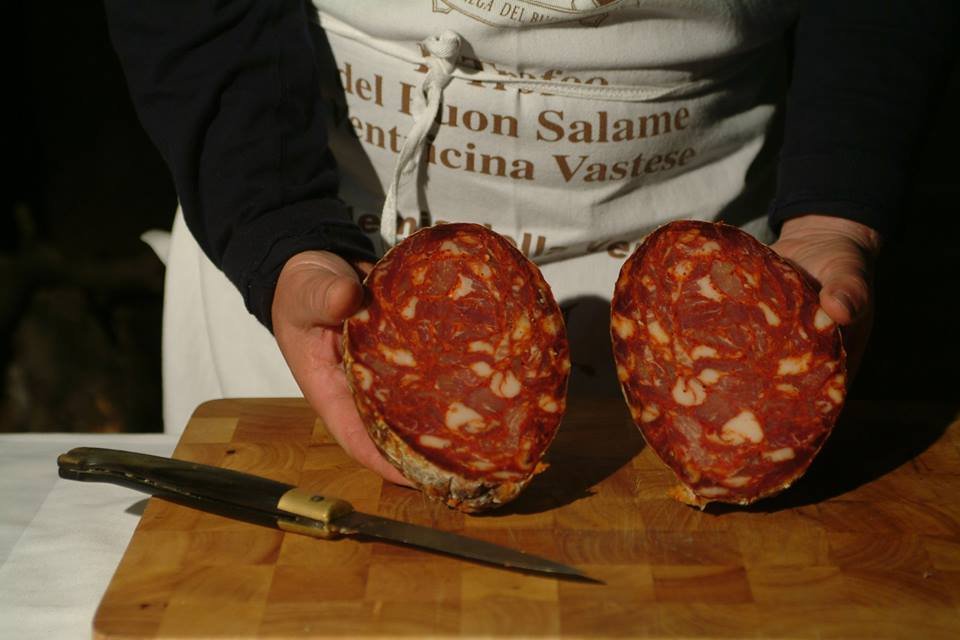 Every year, in July, Vasto hosts a Ventricina del Vastese Festival during which you can taste the famous salami from local producers, watch cooking demonstrations and go on a walking tour of the city.
Join my food tours to taste ventricina alla vastese and other traditional cured meats.
Where to find:         
Macelleria Di Nanno Paolo, Via Histoniense, 204, Vasto
Macelleria La Genuina, Via Provinciale, 8, Carunchio. Web: www.laventricina.it
Agriturismo Fattoria dell'Uliveto, Contrada Ragna, 59, Scerni. Web: www.ventricina.com
Agriturismo Villa Olmi, Contrada Santa Giusta, 1, Roccaspinalveti.
Check out the video below to see how ventricina della vastese is made:
All photos are by Ventricina.com