Let's admit it: very few of us like the stress of Christmas shopping. Especially when you want to buy something special for your loved ones and can't seem to find anything suitable. With only a few weeks to go to the holiday season, there is no time for procrastination. We all know that although there are plenty of food artisans and high-quality traditional crafts in the region but finding them online is a hell of a task if you want to buy gifts for Abruzzo lovers. I thought, a roundup of the best gifts from Abruzzo might make your life a little easier.
A gift for pasta lovers
One of the first things that come to mind when you think of Made in Abruzzo gifts is, of course, la chitarra (or "lu carratur" in dialect), a traditional pasta making tool. Every self-respecting Abruzzo cuisine lover must have one of this wooden frames with tight strings. You roll a pasta dough sheet over them (not as easy as it sounds!) to make delicious square spaghetti, pasta alla chitarra. You can buy one here.
Lace jewellery
The tradition of delicate bobbin lace from Scanno goes back to the 16th century but there are very few women left, who still make it. Federica Silvani learnt the craft secrets from two old ladies in the village and together with the goldsmith Francesco Rotolo started creating exquisite jewellery. If you happen to be in Scanno, make sure you visit her beautiful workshop (Via Vincenzo Tanturri, 1). You can order rings, earrings, pendants or bracelets on her website or her Amazon shop. Prices start from €105 for a pendant on a silver chain.
Pizzelle maker
Another staple of Abruzzese cuisine is pizzelle (or neole, nevole, ferratelle, depending on where they are made as, it seems, every village in the region has a different name for them). Just a few decades ago, nearly every family had irons for baking the waffles on fire. Nowadays, electric makers are used. Check out this pizzelle baker for making thin crispy pizzelle.
Bed covers with history
Lanificio Vincenzo Merlino of Taranta Peligna has been manufacturing traditional high-quality Abruzzese blankets since 1870. Their stunning bed covers are made from pure wool or cotton. The factory has an online shop and ships worldwide.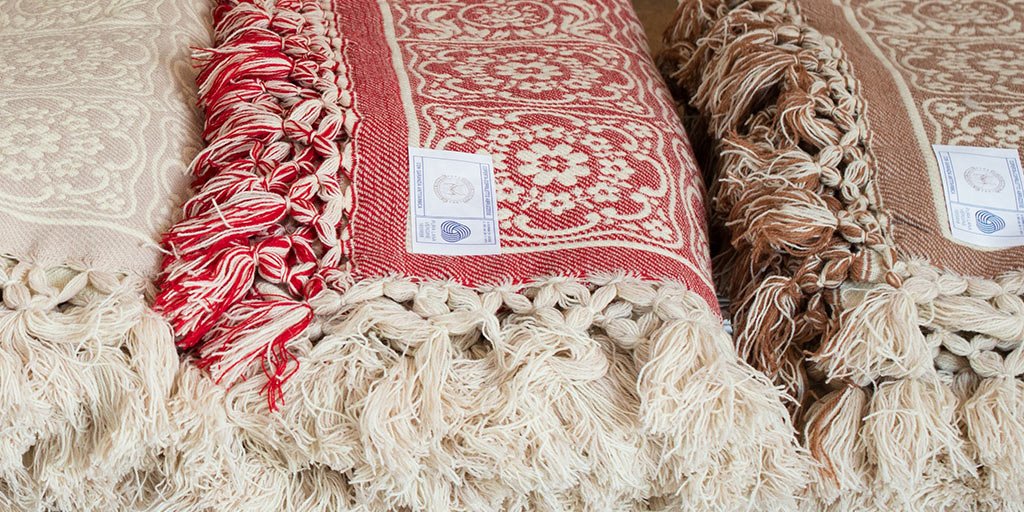 Traditional ceramics
One of the most iconic Abruzzese ceramics designs is a centortavola, a bread plate, with cut-outs. This one is hand-made in the town of Villamagna and decorated with the old-style "Fioraccio abruzzese", a floral design used for traditional kitchen utensils.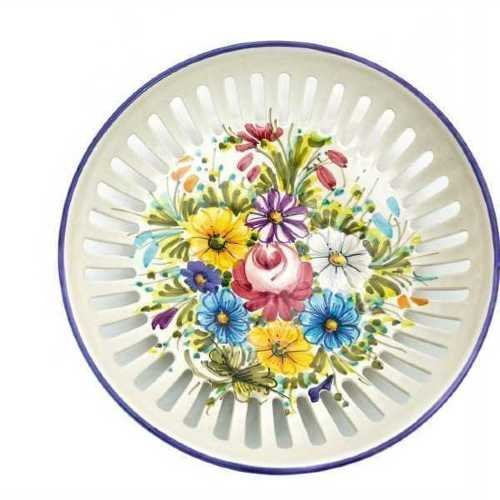 Wines from Abruzzo
Choose three bottles from some of the famous Montepulciano D'Abruzzo producers that will be sent to you in a gift box. You can't go wrong with magnificent wines from Cataldi Madonna, Praesidium, Emidio Pepe! Buy a Montepuciano D'Abruzzo gift box here. Shipping within Italy and Europe only.
Abruzzo photo book
This photo book by renowned landscape photographer Michael Kenna is one of very few publications on Abruzzo and it is stunning. Printed on matt art paper it presents 65 stunning images of the region, published for the first time.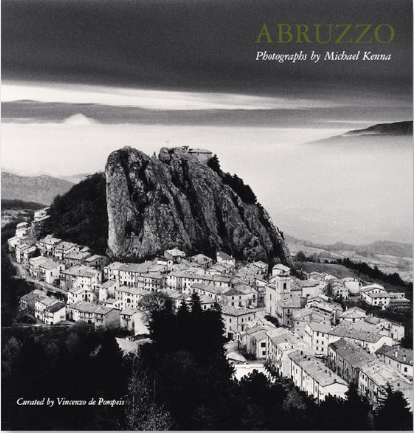 Foodie breaks
The greatest gifts are experiences rather than things. I organise foodie breaks in Abruzzo for those who are curious to explore the region's culinary traditions. A break includes accommodation for two nights for two people, a hearty dinner in a traditional restaurant, wine tour and a cooking class. You will see off-the-beaten path towns, taste the best local dishes and enjoy excellent wines.