On my food tours I am often asked "What are the must-try traditional dishes in Abruzzo?" I have been eating my way around the region for many years and came to realise that every single dish here is a history lesson on a plate. While most of them are delicious, some might be too alien to foreign palates. If you want to embrace Abruzzese culinary traditions I suggest that you look for the following typical dishes that you can find in most rural family-run restaurants.
Arrosticini
Synonymous with Abruzzo, arrosticini are small chunks of castrated mutton or young sheep alternated with pieces of fat cooked on wooden skewers over hot coals. Surprisingly, the dish's origins go back less than 100 years. It is believed that peasants in the area around Civitella Casanova and Villa Ciliera started cutting tough old sheep meat into tiny cubes to make it easier to chew. The first photo of arrosticcini is dated to 1930 (see below). You can find arrosticcini in many traditional restaurants all year round. The moment the weather turns warmer, Abruzzese dust off their "fornacelle" (a long narrow metal barbecue) and grill arrosticini outside. Eating them with a fork is frowned upon as you are supposed to slide the meat off the skewer into your mouth using the teeth. A few bites of bread drizzled with olive oil, a generous sip of Montepulciano d'Abruzzo and you will fall in love with the hearty simplicity of the local cuisine. Abruzzese men love bragging about the amount of arrosticini they consume in one sitting. I have met a few who say the can gobble down 100 skewers without blinking an eye.
Pasta alla chitarra
Another iconic staple, the square spaghetti are made using a special tool called "la chitarra" that reminds a guitar. Although the recipe is simple, rolling the dough over the chitarra requires some practice. Usually pasta alla chitarra is served with a rich tomato and meat sauce alla ragù.
Where to find: Most rural restaurants in Abruzzo make excellent pasta alla chitarra. In one of my favourite restaurants, Il Tholos, the chitarra is made by hand with solina heritage grain flour.
Pallotte cacio e uova
Often called "the poor man's meatballs", the pallotte are made with cheese, eggs and breadcrumbs. The best cheese and egg balls have to be soft and melt in your mouth. Some old-fashioned deli shops sell them pre-made, all you have to do is just simmer the pallotte in a tomato sauce. You can learn how to make this dish in our Cooking with locals classes.
Where to find: Col di Gotte makes excellent pallotte and serves them as a starter. In Pescara, Taverna 58 does a good job.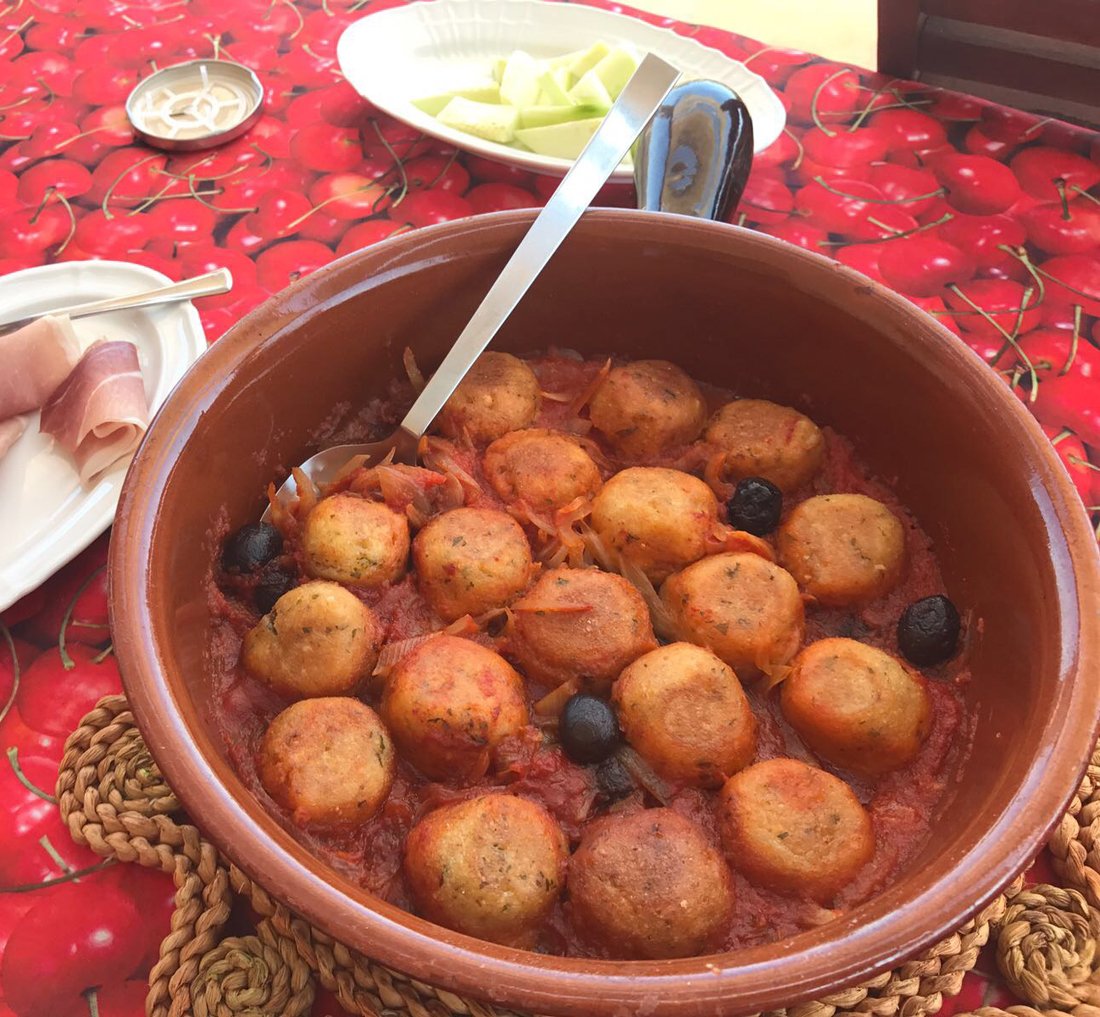 Sagne e ceci
This pasta and chickpea soup is a winter dish. Easy and cheap to make, the recipe calls for short flat pasta (sagne), chickpeas (or beans) and an onion. This ancient dish is also common in Lazio, Campania and Puglia with slight variations in the recipe (e.g. in Rome anchovies are added).
Where to find: One of my favourite places to have pasta and ceci is in Trattoria La Tavernetta in Chieti. There the chef throws some toasted dry sagne pasta to the soup, which adds a lovely crunch to the texture.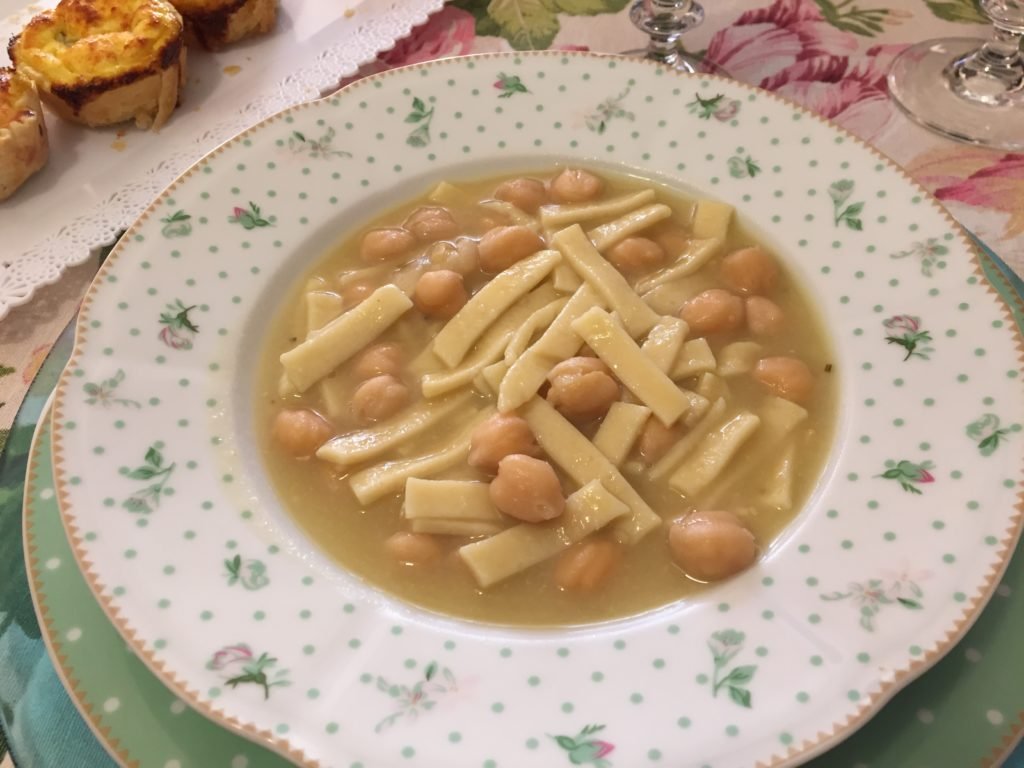 Coratella
This ancient dish is made from finely chopped lamb lungs, kidneys, heart and liver. While in other regions coratella is cooked with artichokes (in Rome) or in a tomato sauce, in Abruzzo, the organ meats are simply pan fried with onions and, sometimes, with eggs. You are more likely to find it on the restaurant's menus around Easter time as, traditionally, locals eat it for Easter breakfast with cheese bread (pizza di Pasqua), salami and hard-boiled eggs.
Where to find: Antica Taverna in Navelli has coratella on the menu all year round and it is delicious.
Pasta alla pecorara
Hard to find beyond the Teramo province, this ring-shaped pasta is one of my favourite. Thick chewy dough rings are simmered in a rich tomato and vegetable sauce and served with sheep's milk ricotta. The area around Elice and Atri is where the pasta was born, so head there if you want to try the most authentic version of it.
Where to find: Hostaria Zedi in Atri makes good pasta alla pecorara, although, they are not very generous with the ricotta topping.
Brodetto alla Vastese
As the name suggests, it is a fish soup typical for the Vasto area. Historians trace the origins of this recipe back to the 19th century when fishermen traded with farmers some of their catch for vegetables. The soup has fewer ingredient than other similar ones cooked along the Adriatic coast: fish, tomatoes, olive oil, garlic and local spicy red pepper. Traditionally, a local variety of tomato "mezzo tempo" was used, however, it has become hard to find in recent years, so often it is replaced with other varieties.  A good brodetto alla Vastese should have at least seven types of fish, which is always cooked whole in a large terracotta pot called "la tijella". The soup is never stirred but slightly shaken during the cooking process to make sure that the fish does not break.
Where to find: The famous Trattoria Da Ferri is one of the best places to try the brodetto. It is always full and it is better to book in advance, although, you might still have to wait for your table. Trattoria Zì Albina also makes excellent brodetto since 1907.
Scrippele
The Abruzzese version of crêpes is called scrippele. Thin and delicate, they are made without milk, just flour, eggs and water. Typical for the northern part of Abruzzo, the Teramo province, scrippele origins go back to the 19th century when the French ruled the region. A local cook while preparing a meal for French officers by accident put some crêpes in a bowl with chicken broth. The dish scrippele 'mbusse was born: small crêpes sprinkled with cheese, rolled up and served in broth. They are also served stuffed with ricotta or as part of timballo (see below).
Where to find: Not easy to find nowadays but some restaurants around Teramo still have scrippele 'mbusse on the menu. La Cantina di Porta Romana is one of them. Want to make them at home? Watch this video on how to make scrippele 'mbusse (in Italian but easy to follow).
Want to know more about traditional food in Abruzzo? Sign up to my food tours or book a foodie weekend.