From Sulmona to Buckingham Palace, confetti Pelino will grace the tables at the wedding of Prince Harry and Meghan Markle next Saturday. The royal family seem to be fond of sugared almonds from Sulmona as this is not the first time they have chosen the sweets from Abruzzo for a special celebration. Before it was Charles and Diana's wedding, then William and Kate's and now Harry and Meghan's grand event.
According lo the local press, the British Embassy contacted the factory and ordered a small bouquet in the colours of the national flag: blue, white and red with the bride and groom's names written on the white petals as well as several types of confetti for the wedding feast.
Confetti Pelino are renowned for their high quality. No flour or starch are added, only sugar and Avola almonds from Sicily. The classic recipe goes back to the 15th century when the production of confetti started in Sulmona. Centuries ago, local nuns from the Santa Chiara convent wrapped the sweets with silk threads to make rosaries, flowers and elaborate artistic compositions. Today, the factories in Sulmona use coloured paper, organza and tulle fabrics to compose beautiful bunches of flowers, wedding favours, christenings and communions gifts.
In the Pelino factory, that has been making the sugared treats since the 18th century, you can check out a fascinating museum telling the history of confetti production. There is a reconstruction of a confetti workshop with old confectionery machines, memorabilia, precious lace, porcelain, silver bonbonières used in the past.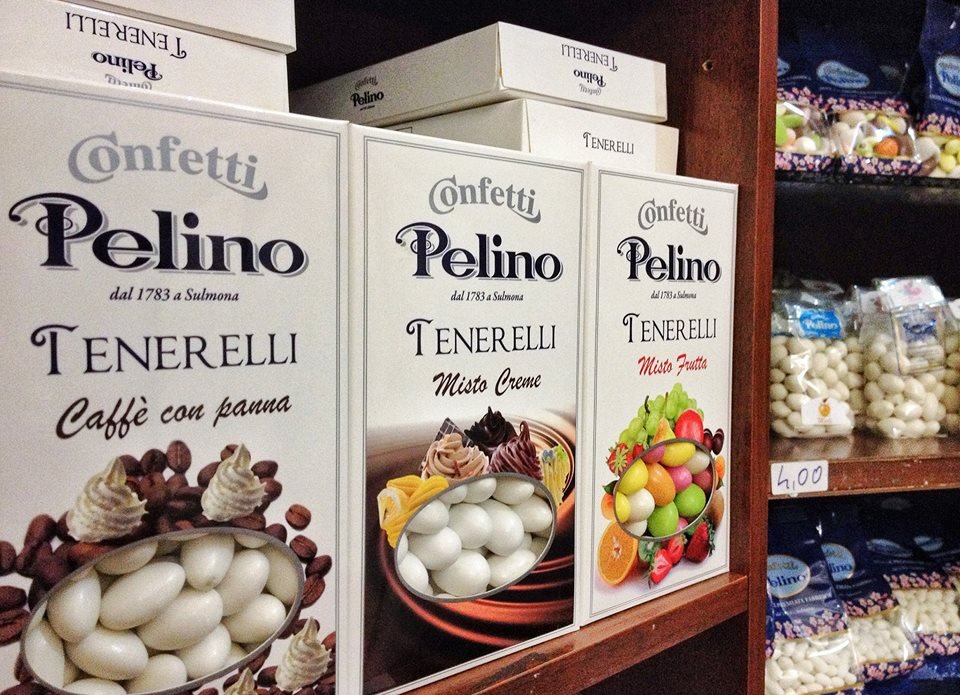 Confetti are a great sweet gift to take home and you can stock up on all kinds, colours and shapes at the factory's shop. I prefer the classic plain white confetti with almonds but there are also speckled, pink, blue, red ones, confetti with chocolate, hazelnuts, pistachio, coffee as well as confetti flowers and various artistic creations (bumble bees, ladybugs, grape clusters etc.).
Address:
Confetti Pelino
Via Stazione Introdacqua, 55
Sulmona
Tel. +39 0864 210047
Photos by Confetti Pelino/Facebook